As Japan is preparing for the wettest period of the year, Ajisai flowers are in full bloom. There's many popular place see these Ajisai, and one of them is Meigetsu-in in Kamakura.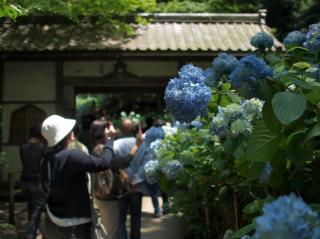 Meigetsu-in also known as "Temple of Ajisai" is filled with Ajisai which only blooms during this rainy season. Entrance fee is 500yen.
Other than blue, there are also other colors of Ajisai, namely white, purple and pink. The flowers last till end of June when it's hot enough.
Other than Ajisai, there are many other ways you can enjoy Meigetsu-in. You can also see a beautiful Japanese stone garden.
The closest station to Meigetsu-in is JR Kita-kamakura. Just a short 5 minutes walk from the station. More info
here
.
It was a tough game for Japan against Uzbekistan tonight but Japan managed to pull through and be the 1st country to confirm a place in the FIFA World Cup 2010. After the match, all the player put on this T-shirt.
Yes, it says "Go To South Africa". Personally, this is the 3rd time Japan qualified for the World Cup I witnessed. Although Japan is not strong at soccer, things do get exciting when they qualified. Anyway, congrats to team Japan.
| HOME |